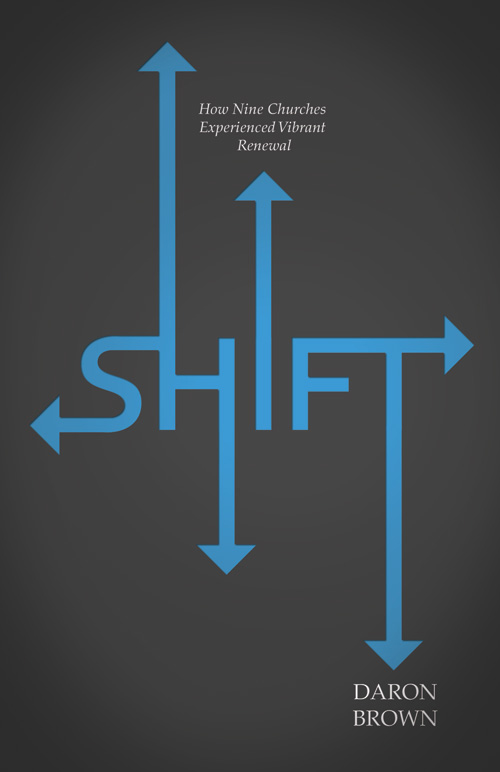 Perhaps the SHIFT story of vibrant renewal in Chanute reminds you of how God has worked within your own church and community through SHIFT.
Your story may encourage others who are on the journey and those who are considering taking the first steps toward a SHIFT; and some submissions will be shared in print at our upcoming M15 Conference.
The first ten people who submit a story will receive two copies of SHIFT to use or share with someone else who would benefit from its principles and stories.
Please send your name, church name, and a 500 or fewer word SHIFT story to This e-mail address is being protected from spambots. You need JavaScript enabled to view it no later than October 31, 2014.
We look forward to hearing how God is at work!

An Unlikely Trinity
Rev. Steve Suttles, Lead Pastor
Reflections on Darby Creek Church of the Nazarene near Columbus, Ohio
Darby Creek Church of the Nazarene is unique, unusual, even unlikely. Located in a suburb of Columbus, Ohio, it was born—or should I say— "reborn" in the last five years.
On January 8, 2008, I arrived at Southwest Community Church of the Nazarene. Southwest had been on the decline, from around 200 to 70, over the previous twenty years, but God blessed the church with immediate growth. People were saved, ministries were started, small groups formed, the mortgage paid off, much needed renovations were made, and Funding the Mission occurred six years in a row—the first time in the church's history. But that's not the whole story.
Read more...
Atlanta on My Mind
Rev. Mark Bane, Joplin District Superitendent
Reflections on Gracepointe Church of the Nazarene outside Atlanta
The Atlanta metro area has grown from five hundred thousand to around six million in population, while its mother Nazarene church "Atlanta First" (now Gracepointe) has been somewhat flat in its impact on this great city. It has been said "Atlanta First Nazarene is a church whose influence was always greater than its size" and "Atlanta First has never reached its potential." The church began with hopes to reach the then rapidly growing city. It launched in 1926 with 27 charter members. Within a few years, 1931, the church grew to 200 attendees and plateaued at that size for 45 years. For the past 42 years, Gracepointe has averaged around 300, with a few peaks under the influence of a great ministry family the Diehl Family. Both father, Dr. Jim Diehl and son, Don Diehl saw the greatest days in the church's history to that point when it peaked at just over 400 attendees. Old First Church had some of the greatest pastors in the history of the Nazarene movement: Dr. Charles Strickland (former General Superintendent), Dr. Bill McCumber (Prolific author), Dr. Jim Diehl (former General Superintendent), Dr. Keith Wright (former District Superintendent), and Dr. Pal Wright (former District Superintendent), with many other great pastors not mentioned.
Read more...
Small, Plateaued....Changed
Rob McDonald, DS of the Dallas District
Whispering Pines Church of the Nazarene, East Texas
Whispering Pines Church of the Nazarene is a small church located about 4.5 miles off of U.S. Highway 80 in a small lake area community of East Texas. It was there that my wife Sue and I drove up to this nice, neat and clean church building on a Sunday morning.

I leaned over to Sue as we walked in and said, "Shhh! You can hear the pines whispering!" We walked into the building and were promptly greeted by some new faces and introduced to them by Pastor Jeff Karlson. The typical 15-20 people that had frequented the little church in east Texas were now beginning to look more like about 50 by the start of the service. The worship was vibrant. The people were enjoying the fellowship and their worship experience. Then the pastor got up and introduced me as the speaker for the morning. I preached a very simple message and at the end gave them opportunity to respond. People quickly moved toward the altar and knelt. A couple of ladies caught my attention because of their praying and crying almost inconsolably. Sue knelt beside them and was joined by other women of the church one of whom was well within her 80's. You could just tell that something was transpiring.
Read more...
Nomad – A Church Without a Home
Pastor John Huddle
Los Angeles
Luke 10:2 He told them, "The harvest is plentiful, but the workers are few. Ask the Lord of the harvest, therefore, to send out workers into his harvest field. Go! I am sending you out like lambs among wolves."
It is difficult to say when churches begin, but one was born in a Chevy Suburban at 4:47 PM on a Friday in Los Angeles.
I drove. Terrence rode shotgun. I had known Terrence for four weeks. I taught college classes and planted churches, and he is a college student from Philadelphia. His mother is back in Philly, and she's homeless; and at this moment in the story, he was homeless, too.
We borrowed a suburban to pick up people for an organic church happening in an apartment in central Los Angeles. While we drove to Trader Joe's to pick up food for the gathering, Terrence talked.
Terrence talked. A lot. That's a big deal.
I knew some of his story, but it always came in pieces. As we drove down Manchester Avenue, Terrence told the "Director's Cut" version. No edits, from start to finish. Something had unlocked inside of him like those springs of water during Noah's flood. And though Terrence wasn't a follower of Jesus, he was hungry – hungry enough that he'd met with me and one other guy at a park each week to discuss the gospel of John which he read and reread from start to finish weekly.
Read more...
<<

Start

<

Prev

1

2 Next > End >>


Page 1 of 2